January 30, 2011
When my husband and I head to Kelowna for a date night, we almost always go to Joey's Grill for dinner because not only do we love their atmosphere, we love their chicken lettuce wraps. We haven't made it to Kelowna in a while and I had a hankering for the wraps, so I decided to make them at home. Google was no help on finding their secret recipe so I assembled what I thought they were made of and I have to tell you – they came pretty close. I think maybe a little more soya sauce would have made them identical.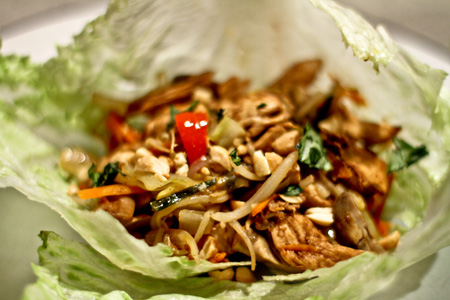 Here is what I did:
INGREDIENTS
* 2 Tbsp. oil for stir-frying
* 1 head fresh iceberg lettuce (or any kind of lettuce you can use for a wrap)(or a flour wrap if you're like my husband and prefer bread over lettuce)
* 3 cloves garlic, minced
* 1 tsp minced ginger
* 1 red jalapeno, de-seeded and finely sliced (omit if you prefer very mild wraps)(it wasn't overly spicy – I might add two next time)
* 2 shallots, finely sliced
* 2 chicken breasts, cooked and shredded, (could use cooked baby shrimp or pork as well)
* 1 carrot, grated
* 6 mushrooms, thinly sliced
* 1/2 cup shredded cabbage (I used green because I had it on hand, but red would work too)
* 4 green onions, chopped
* 2 cups bean sprouts
* (You could also add noodles – I opted to leave them out.)
SAUCE:
3 Tbsp. lime juice
3 Tbsp. regular soy sauce
3 Tbsp. peanut satay sauce
(I pre-mixed this in a measuring cup.)
TOPPINGS
1 cup fresh cilantro (or basil, if you dislike cilantro), roughly chopped
1/2 cup fresh dry roasted peanuts, chopped or ground
INSTRUCTIONS
1. Drizzle oil into a wok or large frying pan over medium-high heat. Add garlic, ginger, red jalapeno and shallots. Stir-fry one minute or until fragrant.
Stir-frying tip: add water whenever the wok gets dry instead of more oil.
2. Add chicken (or shrimp/pork), carrot, mushrooms, cabbage, and green onions. As you stir-fry, add the sauce. Stir-fry 1-2 minutes.
3. Add the bean sprouts and stir-fry briefly to mix.
4. Cut off the stem part of the iceberg lettuce so it's easier to separate the leaves.
5. Heap 2 tablespoons (or more) of filling in the center. Top with a sprinkling of fresh cilantro (or basil) and peanuts.
I had the leftovers for lunch today and they tasted even better.
Enjoy!